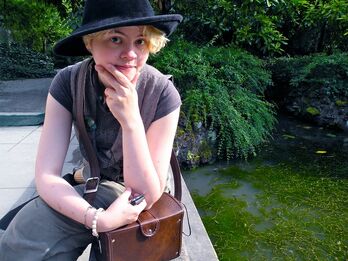 This is weird. I tried writing this in a third person, more professional format.  It was weird.  So I'm just doing this first person.  I am VictorianMycomancer; you can call me that.  Or you can call me Nos, carry over from the Monster High forums, or Camille, as that's my real name.  Honestly, don't care that much.  I'm very casual. 
I write, I draw, I like to think I'm good at both but I won't push the opinion on you.  I draw by hand and am learning to color on the computer.  And like most artists, I violently hate hands.  I've also learned I hate ankles.  From now on all my characters shall be octopi!
I like horror movies, dolls, reading, fashion, steampunk, tabletop RPG's, and a whole host of other things.  Got into Ever After High via Monster High, and now find myself wanting to get more into both of them again.  I miss the puns. 
I create a lot of OC's, I call it MCD, right now I've got eight and a half Ever After High OC's, as one is a transfer student from MH.  (Cupid can do it, so can I.)  About twenty for Monster High, and several worlds all my own. 
Fan Art & Fanfiction.
Edit
Camille does a lot of writing and drawing, but usally fails to upload it.  Currently she has no fiction related to Ever After High, but she does have a much neglected Deviant Art page, which she uploads anything she's actually proud of too.
Here's a link to that, click away.
Camille has seven so far.  With pages that are in progress, for now they're listed here.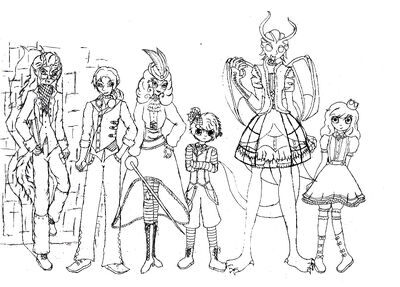 Jacqueline Hook, The Daughter of Captain Hook
Jan E. Wocke, The Daughter of The Jabberwock
Lily White, The Daughter of The White Queen
Vilda R. Bayle, The Daughter of The Beast
Hamish Piper, Son of The Pied Piper
Linus S. Muffett, Son of Little Miss Muffet.
Rayan Red, Son of The Red Queen.
Other important links.
Edit
Because Camille is a big fan of shameless advertising she thought she'd direct you all to some of her other projects.  This is the Tabletop RPG she's working on.  It's called Monster Trainer, inspiried by Pokemon, Digimon, Monster Rancher, and Card Captors, she does most of the illustrations, and is one half of the two person design team.  Right now the PDF is free to play and test.  A finished, fully illustrated book is on the way.
This is my page over at the Monster High Fandom Wiki  There's a lot of crossover between my characters, so I figure it's worth sharing.  I'm still working on that too.  But slowly I'm getting these things in order.
Ad blocker interference detected!
Wikia is a free-to-use site that makes money from advertising. We have a modified experience for viewers using ad blockers

Wikia is not accessible if you've made further modifications. Remove the custom ad blocker rule(s) and the page will load as expected.