Erm, where do i come into this story?

— Terry's question

My name is Terry, i am daughter of one of the boys who went to Toyland in Pinocchio. I cant stand how i am always bossed around by my big brother Larry just because he is the second oldest. 
Portrayers 
Edit
Her Voice and Live Action Portrayer would be G. Hannelius who does Avery on Dog with a Blog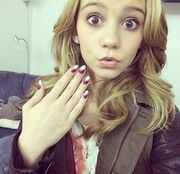 Character
Edit
Personality
Edit
Terry is a very fun spunky just turned teenager. She is very nice to people yet can get into trouble at times. She is also very naive and mischevious, and has many questions about teenage girl life and boys. She also doesnt really understand the whole 'war' with the royals and the rebels.  She hopes its over by the time she gets into highschool. 
Appearance 
Edit
Terry has blonde hair and blue eyes, a pair of red donkey ears and a tail. Most people say she looks a lot like her mother before she died. 
The Adventures of Pinocchio
How does Terry come into it?
Edit
A few years after the triplets were born, Cherry and Harry still wanted to make love, resulting in her and her twin sister Carrie. 
Relationships
Edit
Harry Esel
Edit
Harry Esel is Terry's father and only caretaker besides her brothers and sisters.
Cherry Jennifer Esel
Edit
Cherry Esel, mostly known as "Ms Jennifer", is Terry's deceased mother. 
She wishes he can just go away a lot of times. He is super bossy to her and tells her what to do all the time. 
She prefers Gary over Larry
She rarely ever sees her sister since their mom died. Its like she isolated herself to deny her mom's death. 
Carrie is Terry's twin sister--though they dont look at all the same they were born at the same time-- and arch rival. 
Sherri Esel
Edit
Sherri Esel is the oldest Esel kid who dropped out of Ever After High in her Legacy Year since Larry was more eligable for the part. 
he is one of her friends, but they rarely see eachother since he goes to a different school. 
Margherita likes to follow Terry around and listens to her rage moments. 
her crush is unknown. 
She is not really fond of Faerydae Splintre, Jaina Wocky, or Belladonna Lukoje. 
What inspired her was Yuka Mochida from Corpse Party. 
Her birthday is on june 27th
Theme song
Edit