This page is one of the many guides of the Ever After High fandom Wikia, and will outline the very basics – how to create a driver page and character pages on the Wikia.
These are not tips for creating and perfecting your OCs and fanfiction, but tips to help you get started on the Wikia.
You may see some headings without information underneath. More information will be updated, I promise.
Other Guides:
Prologue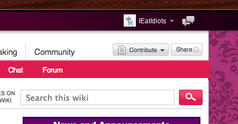 On the top right hand corner is a button that says "Contribute". One you click on it, you get a dropdown with a bunch of options.
If you want to add a page for yourself or your character, you go to "Add a Page", and then you can title the page however you like.
Once that's done, you can write whatever you want on the page.
Click Publish, and your page is created!
If you want to edit your page after creation, go to the page, and under the title will be an "Edit" Button.
How do I navigate? How do I steer? Welcome to the top navigation. Here, you will be able to find what you need to find.
On the Wiki and Inklings
Both tabs contain things typical of all wikias. You can visit recent activity, random pages, all types of media, access blog posts and other people's drivers pages. 
Story Making
Story Making is a tab full of the most important resources on the Wikia! This is the tab contains guides, tutorials, resource lists and other various Fandom Wikia guidelines. In fact, you might notice that this very article is listed under this tab.
Cast and Chapters
Exactly as it says on the tin. Cast will give you a dropdown menu of people's original characters and Chapters will give you... you guessed it, fanfiction!
WIP
~Friendship~
Interacting with other Fandom Members is one of the essential parts of the Wikia. Here, you can talk and interact your OCs, share headcanons and plenty more.
Forums
Forums are a handy place to bounce ideas off each other, debate hardcore topics and roleplay your OCs (and canon characters) out! Feel free to start a new thread in any forum board or participate in an existing one. Make sure that all threads are in the right forum boards and please stay civil in all arguements.
Message Walls
Do you have a dying question to ask someone? Do you have a burning request? If it's too important or personal for the forums, use the message walls. Of course, not just the owner of the Message Wall is able to reply, but it does ensure that they are notified and it makes it easier to reach them.
Blogs
Blogs are really fun. If you want to post something similar to an article, but you don't want to make a normal article, making a blog is always a safe bet.
Comment Threads
Please use comment threads to talk about the page! This means that you can literally say anything about the page. Of course, if you say something really jerkish then we'll give you a warning. However, you are free to voice your opinion or point out problems politely. Because hey, what's a fandom Wikia without a little bit of criticism?
Glossary
Canon: Things that are confirmed in the show, ie, Cerise Hood (the character), and the idea of Royals and Rebels.
Driver's Page: A page dedicated to someone who is part of the fandom. This page is usually edited by the person who is written about in the page, and will often list their original characters, and things that they have contributed to the fandom.
Fanon: Ideas or stories that are based on the show, but rarely have canonical proof.
Fanfiction: Stories written about the canon characters or set in the canon universe.
Original Characters: Characters that have been created by someone who does not work on the show.
Ad blocker interference detected!
Wikia is a free-to-use site that makes money from advertising. We have a modified experience for viewers using ad blockers

Wikia is not accessible if you've made further modifications. Remove the custom ad blocker rule(s) and the page will load as expected.