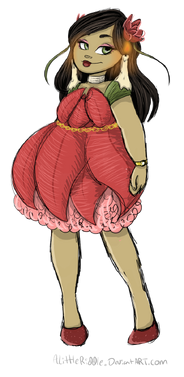 Rosalynn is the daughter of the brother from the Rose-Tree.
PARENT'S STORY: The Rose-Tree
ROOMMATE: ???(Will be added later)
SECRET HEART'S DESIRE: To not relive my mother's life.
MY "MAGIC" TOUCH: I honestly don't have a magic touch.
STORYBOOK ROMANCE STORY: I'm too busy worrying about my fate and destiny to be concerned with romance. 
"OH CURSES!" MOMENT: I'm a bit clumsy, and forgetful....
FAVORITE SUBJECT: Happily Ever Art.
LEAST FAVORITE SUBJECT: Unfortunate Fates. 
BEAST FRIENDS FOREVER AFTER: ???(Will be added later)
Ad blocker interference detected!
Wikia is a free-to-use site that makes money from advertising. We have a modified experience for viewers using ad blockers

Wikia is not accessible if you've made further modifications. Remove the custom ad blocker rule(s) and the page will load as expected.