{{| class="wikia-infobox" ! class="wikia-infobox-header" colspan="2" style="width:264px;"|Phillip Brother |-
| class="wikia-infobox-image" colspan="2"|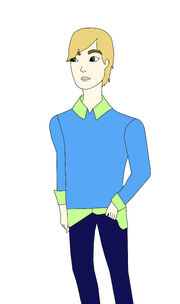 |- ! colspan="2" style="width:264px;"|Character Profile |- ! style="width:128px;"|Parent Story |Snow White andRose Red |- ! style="width:128px;"|Age |17  |- ! style="width:128px;"|Alignment |Royal |- ! style="width:128px;"|Roommate |TBA |- ! style="width:128px;"|Secret Heart's Desire |As long as I get the family fortune, I am fine.. |- ! style="width:128px;"|My "Magic" Touch |I can trick any one out of anything! |- ! style="width:128px;"|Storybook Romance Status |Well. Yeah, I've got nothing. |- ! style="width:128px;"|Oh "Curses!" Moments |Seriously? Do you even know how perfect I am? |- ! style="width:128px;"|Favourite Subject |Grimmnastics. I like to show off the guns to the damsels in distress. |- ! style="width:128px;"|Least Favourite Subject |Crown-culus. Enough Said. |- ! style="width:128px;"|Best Friends Forever After |I have no time for friends. |- style="font-size:0px;line-height:0;" ! style="padding:0px;width:134px;"| ! style="padding:0px;width:134px;"| |}}

Phillip Brother is the son of the King's Son's Brother. He is a selfish, rude, and self-involved prince in the making who could'nt care less about his surroundings. === Appearance===
Phillip is a very queer looking fellow. He has small, green eyes, slim lips, and pale blond hair.

Edit
Fairy Tale: Snow White and Rose Red
Edit
Basic Summary
Edit
Phillip is destined to do nothing, but marry Robin Red in the end.
Relationships
His father is the King's Son's Brother. His step-mother is Rose Red. She also has a step-sister named Angel White, a cousin named Robin Red, as well as an aunt and uncle named Snow White and the King's Son.
Phillip has no friends.

Romance
Though he is destined to marry Robin Red, he doesn't really want to go with the flow.
Outfits
[TBA]
[TBA]
Ad blocker interference detected!
Wikia is a free-to-use site that makes money from advertising. We have a modified experience for viewers using ad blockers

Wikia is not accessible if you've made further modifications. Remove the custom ad blocker rule(s) and the page will load as expected.