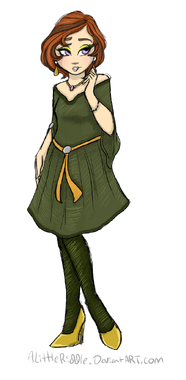 Perri is the daughter of a King and Queen.
Bio
PARENT'S STORY: The Ordinary Princess
ROOMMATE: Alex Ordinary
SECRET HEART'S DESIRE: My heart's desire? My heart's desire is to actually have a happliy ever after! All I'm known as is "the sister of the Prince who will marry Alex Ordinary"...my brother doesn't even like her! Ugh, this is so unfair....
MY "MAGIC" TOUCH: I don't have a magic touch, kind of comes with the "doesn't even have a fairytale to follow" thing.
STORYBOOK ROMANCE STORY: Princes aren't my thing. To put it lightly and keep it short.
"OH CURSES!" MOMENT: Hm, I suppose my "oh curses!" moment could be that I can be a bit...snippy. And to keep it short the announcmentss when I have to go to the hospital. I actually don't have an aunt in Siberia, like what the heck!
FAVORITE SUBJECT: History of Obscure Fairytales.
LEAST FAVORITE SUBJECT: Royal Eloquence 101. 
BEAST FRIENDS FOREVER AFTER: Alex Ordinary
Notes
Is homosexual
has lung cancer.
Is secretly dating Alex.