We should just chop up the book and re-write our own stories. We don't have to be our parents. -Pat Pan
Name: Patricia Pan. Pat for short.
Fairytale Parent: Peter Pan.
Royal or Rebel: I'm a rebel! Gosh! I mean, do I look like I wanna fight pirates? I want to be their friend, not their enemy.
Friends: Cerise Hood, Raven Queen, Maddie Hatter, Jake Hook, Esmee (She doesn't tell Jane ,AKA She Hook, that), and Rolana Candlewick.
Enemies: All Royals. Too bossy.
Roommate: Cerise Hood, so far. Might change.
PORTRAYER ______________________________________________________________________________________________________________________ In the webisodes and in live action.
If Pat Could be Played by anyone, It would be....
Bella Thorne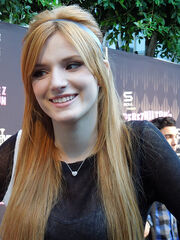 Outfits
Basic: Green, long-sleeved shirt with black skulls, Black skort, Blue knee-high boots, Green beanie, red hair that it shoulder length.
Romance: I'm don't want to be gay or anything but I have a teeny, tiny, little crush on Miranda-Melissa Cent. I don't want to be gay, okay!!
Ad blocker interference detected!
Wikia is a free-to-use site that makes money from advertising. We have a modified experience for viewers using ad blockers

Wikia is not accessible if you've made further modifications. Remove the custom ad blocker rule(s) and the page will load as expected.