Hearts don't shatter as easily as a mirror

— Narcissa's tagline
Narcissa Demonic – or Nar, depending on who you ask – is the 16-year-old successor to the Mirror Demon from the Hans Christen Anderson fairytale: 'The Snow Queen.' Narcissa considers herself to be a rebel, desiring a more significant and dramatic role in her story. After all, what's the fun in being an antagonist, if you're just going to overshadowed by an incompetent, sorry excuse for a queen? 
Narcissa believes the whole 'being-a-villain' thing just doesn't seem to suit her, as she's more interested in being creatively productive than destructive. Though it's hard to stay chill, when you're sorta…kinda… the daughter of a frickin' demon.      
Character
Edit
Personality
Edit
Narcissa is a primadonna; first and foremost. A passionate creative deviant with a love of theatricality and the idea of performance. Then again, it's hard not to be confident in yourself when you've been built up to be some grand, but dormant threat. She'll still take the compliments, though. While she's by no means a theatre geek, Narcissa has found her fit in music; and seems to have a happy-go-lucky and efficient attitude to most of her work.
Narcissa is happiest in a group, often assuming the role of a fiercely loyal mediator. She believes that understanding the full picture, rather than the areas you like is the key to resolving practically anything. Shame that she lacks the patience to practice what she preaches. Oh, and then there's that whole shattering-anything-that-is-reflective-just-at-her-touch thing.
Despite being quite short-tempered and sassy, when not being forced to be a coffee runner, or be involved in any number of Ada Nieves' temporary feuds, Narcissa is often down to earth and calm. To quote close friend, Candy Wickens, Narcissa is 'sugary, but with a hint of spice'. Ada just calls her a 'ginger snap'.  
Interests
Edit
Narcissa is a big fan of music, and is involved in Ada Nieves' currently untitled music project. She is a confident piano player, and has started to experiment with synths and the bass guitar -at least until Ada finds a girl who can play bass. She has a competent love for classical music and often spends time searching through record shops looking for new discoveries.  
At the moment, Narcissa is in love with art-pop (think Bjork, Grimes, and St. Vincent), glam-rock, and power-pop. Though pop-punk was her first love, and Narcissa is an avid Fall Out Boy fangirl.  
Apperance
Edit
Narcissa is rather tall, considering her age, with a lanky build. Height-wise, she's around 5"3, and has a slightly emaciated appearance characteristic of her species. Other demon-like characteristics include long fingers, needle-sharp pointed ears, and fangs. She has piercing amber eyes, and a beige-coloured complexion with some pink, fleshy tones. Her long hair is a deep crimson colour with some darker low-lights. She often wears her hair down, with a thin centre fringe that often is left to hang just past her eyeline.
How the Story Goes
Edit
tba
How does Narcissa come into it?
Edit
tba
Relationships
Edit
tba
Narcissa and Abigail have been mostly inseparable since they were paired off as roommates in their first year at Ever After High. Sharing a love of bad jokes, music, and pulling pranks. When they aren't texting each other in class, or dragging each other off to Book End for coffee and shopping - or in Abi's case, shoplifting from the places she hasn't been banned from. Despite encouraging some of Abi's hell raising, Narcissa often tries (and fails) to keep her from going overboard with their exploits, which often ends in heated arguments as she is one of the few people who actually tells the thief no. Despite this, the girls are close, and Nar enjoys Abi's electric presence.  
Raven Queen
Edit
Narcissa seems to idolise Raven Queen, seeing her as a sort of parallel to herself. An assumed villain who takes control of her life, is a reluctant social butterfly, and one hell of a musician. Sure, the reality of their friendship is probably limited, as Raven seems to be off on some sort of adventure half the time. But she appreciates her nevertheless. 
Narcissa doesn't think she likes Ada all that much. Narcissa reckons she just kind of asserted herself into her friendship group, and now neither Abi or herself can get rid of her. She does enjoy her fierce insults and passion for music. And when Ada isn't being completely full of herself, she's quite a good leader, and she enjoys the time she spends writing or coming up with ideas with her.  
She is also friends with Candy Wickens. The pair often hang out when they have spare time.  
tba 
Narcissa is single and is not interested in love, being more interested in following the love lives of others. Mostly for the hell of it. She often watches C.A. Cupid's podcast and enjoys fictionally pairing off her peers.  
Narcissa's outfit somehow represents her destiny; she wears a dress which is white from the top with a wide dark brown strap and her skirt is light grey and has cracked designs, as if it's a broken mirror. At the bottom of the skirt, it is as if it's cut out into wide hills which are pointy at the tip. She wears a see-through pale orange crop top and a grey thin strap goes on her shoulders and behind her neck as well. Her heels are like fire, orange and it continues with a strap that wraps around her legs, getting brighter into pale yellow, until below her knees and the heels is thin, slightly bumby and black. She also wears a pale orange bracelet which is inspired by flames. 
Legacy Day
Edit
Her legacy day gown is long and black with red, orange and yellow parts below her shoulders, inspired by fire. At the bottom of her flowing dress, it is also inspired by fire. A yellow part comes up behind her neck and nearly at the back of her head. The dress also has a light grey strap with cracked desgins, like a broken mirror, similar to her basic dress. The shoes are black and the wedge is light grey, also with the cracked designs and a bright orange strap wraps around her legs until below her knees as well (it doesn't really show in the picture but that is actually how it is). She also wears a bright orange see-through cape that looks like a huge and wide flame that hangs from the back and top part of her dress. A light grey misformed shape that looks like a huge mirror shard with cracked designs also sits on her head. 
Getting Fairest
Edit
TBA
Portrayals
Edit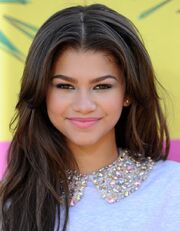 Narcissa's "face claim" would be Zendaya Coleman. A dancer, singer, and actress who is known to be playing the role of Rocky Blue in Disney's Shake it Up, Zoey Stevens in Zapped and Hailey Brandon in Frenemies. Zendaya's long hair could be easily compared to Narcissa's and her acting talents could fit Narcissa's personality, lifestyle, and attitude.   
Piper Curda would voice Narcissa. Piper is an actress who plays the role of Jasmine in Disney's I Didn't Do It. Despite the fact that she doesn't do any voice acting, Narcissa's creator can imagine Piper's voice fitting in with Narcissa.     

Hey dudes, my name is Narcissa Demonic and I'm the daughter of the devil. Oh the horror! And my destiny pledge? Let's move on to that...I pledge to, um, let's see....NOT follow my destiny and you losers are just gonna have to deal with it. If you throw me in prison, make me go "poof!", sue me to the Magical Court, have fun because this is my freedom of speech and I don't take orders. Peace!

— Her Legacy Day speech/pledge
Narcissa was originally created by SabbyFangirl24, but was 'adopted' by DayDreemurr and MeredithAgnesPoe. Assuming that Sabby and Noot are no longer active in the fandom, MeredithAgnesPoe will be writing/developing her character – hence the recent edits. 
Her birthday is on October 24th. 
She inherited her father's powers.
Narcissa made the OC of the month in July 2014.
Despite Zendaya (who is a dancer) being her real life portrayal, Narcissa can't dance.