Oh, me? I WAS going to be the next Candlewick until SHE had to budge in and steal the role from me!

— Luciana talking about her destiny
Dude. Hai. I am Lucy Candeliere. If you call me Luciana i swear i would punch you until you see stars. I am the actual daughter of Candlewick. I was looking foward to my destiny until SHE HAD TO RUIN IT FOR ME. 
Portrayers
Her voice has not been decided, but her Live Action portrayer would be Maria Grazia Cucinotta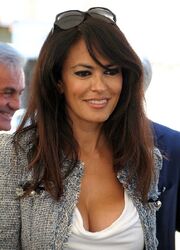 Character
Personality
Lucy is a very troublemaking nuisance at Ever After High. She wont stop whatever she is doing until she ends up getting suspended by Dictator Grimm. She has a very bad attitude and is a terrible influence to children. She skips class on occasion and always asks to go to the bathroom to go spray paint the side of the school saying something bad about the teachers. 
Appearance
Lucy has short boycut black hair, brown eyes, a tanish medium complexion, and brown fur. 
Relationship
Family
Luci loved her father very much before he died. But she got kind of angry that he chose Lana over her to be the next Candlewick. Luci wanted to continue her father's legacy. Luci likes her 5 brothers, but hates Lana. She honestly wanted to be the next Candlewick because she just cant wait to die to see her dad again and make up for the time she wasnt there. 
Friends
Lucy is friends with the donkey boys who go to Ever After High, and Aubree Thief, who is the youngest daughter of the Little Robber Girl from the Snow Queen. 
Romance
Lucy claims to only like boys as friends
Notes
She likes to eat carrots
she is tomboyish like her stepsister. 
Outfits
Basic
Red overralls, ripped up long sleeved shirt, ripped up coat, ripped up socks, worn out mary janes and a chain belt. 
Gallery