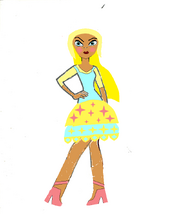 Jillian Stalk is the daughter of Jack, from the story Jack and the Bean Stalk
Personality
Edit
Jillian is a dreamer who always has her head in the clouds, she dreams of breaking the boundries between the rich and the poor and proving girls can do what boys can. Jillian is nice, fun, and loves to play her harp.
Appearance
Edit
Jillian has golden hair, tan skin, and prefers to wears all shades of green. She has a small green hat with a yellow skirt and green stars. She also has green heels.
15
Parents Story
Edit
Jack and The Bean Stalk
Royals
​RoommateEdit
Cookie Gingers
​Secret Heart's DesireEdit
I want to be a hero like my dad.
My "Magic" Touch
Edit
I can make anything grow, and I'm good with numbers.
My Storybook Romance
Edit
I think Sparrow Hood is cute whether he is arrogant or not. We've been friends since preschool.
​My "Oh Curses!" Moment
Edit
I always get in trouble for bringing gold in Professor Rumpilstskin class.
Favorite Subject
Edit
Muse-ic, I can play a mean harp.
​Least Favorite Subject
Edit
Royal Student Council, other noble's look down on me.
Best Friend Forever After
Edit
Sparrow Hood. Me and him always have music lessons together.
Relationships
Edit
Friendships
Edit
Sparrow Hood, Bunny Blanc, Raven Queen, and Tiny
I have a pet baby cow names Gold, she has gold fur obviously, and no spots. I like to have her horns braided with flowers.