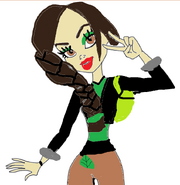 Ivory Hunstman is a boyish, skateboard obssesed, but loyal girl. She's the younger sister to Hunter Huntsman and certainly the tougher one. Her brother refers to her as 'Lil' sis' or i. In the destiny conflict, she's on the rebel side because even though she doesn't have a story, she belives everyone should have the chance to write their own. She's a part time worker at Madeline Hatter's tea shoppe in the village of book end. Ironically though, she's terrible at woodwork.
Portrayers
Edit
In English, I imagine her being voiced by Laura Bailey.
Character
Edit
Personality
Ivory is a tomboy who is intrested in skateboarding over anything. She's very protective and will do anything to protect her friends and family. Ivory enjoys sports and shares her intrest in running with Cerise Hood. She's also the toughest girl in the school, but nonetheless she's a very loyal friend and sister to her brother. Even so, she always feels she's living in Hunters shadow and people expect way too much from her.
Apperance
Ivory has dark brown hair in a side braid with a bit of hair hanging over her left ear. She also has light brown eyes and is pale, unlike her brother.
Relationships
FAMILY
Ivory is the middle child and daughetr of the Huntsman. She has an older brother, Hunter, and a baby sister named Fern, whom she gets along best with in her family.
FRIENDS
Her BFFA'S are Hunter, Ashlynn, Cerise and Poppy, but she generally gets along with everybody.
PET
Ivory and Hunter share Pesky, but for some reason Pesky doesn't annoy ivory.
ROMANCE
Ivory used to date Sparrow Hood but broke up with him after he cheated on her.
Notes
Ivory is a play on poison Ivy, so her her nickname is also Poison Ivory.
Her name was orginally Amazon Huntsman
Ad blocker interference detected!
Wikia is a free-to-use site that makes money from advertising. We have a modified experience for viewers using ad blockers

Wikia is not accessible if you've made further modifications. Remove the custom ad blocker rule(s) and the page will load as expected.