by: Misque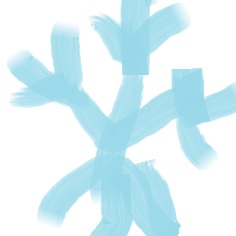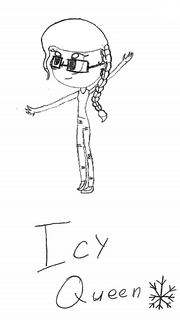 Icy Queen is the daughter of the Snow Queen
Edit
Is a rebel
looks up to Raven Queen
sometimes trips over her 7 foot long hair
a bit tomboyish
does not understand/use make-up
Icy Queen Fun FactsEdit
 her hair is naturally brunette, but after too much time in the frozen north,it become an iced over icy blue
has a pet german shepard named Empress
IS NOT  related to Raven Queen
has a stuffed polar bear named Polara
Best freinds with Kaiden Splinter
has hypnosis and ice powers
does not want to hurt Kaiden (the next Kai)
birthday is August 29th
Belongs to Group for the Magically Gifted
Is a Quickian (Swifty)
Icy Queen Flaws
Edit
sensitive
feels worthless
socially awkward with popular girls
talks to animals ALOT!! (makes her seem weird) Note that she doesn't actually hear the animals in English, she just talks to them and pretends that they answer.               

doesn't go to any to none parties (spends time studying)
prone to bullying/teasing
socially awkward with strangers
Icy Queen Positive Traits
Edit
exellent seamstess,writer , gymnast and singer
lovable loser
sypathetic
kind
good listener
Icy Queen Physical traits
Edit
icy blue skin
hair:See Icy Queen Fun Facts, has well kept bangs.
4 feet tall
12 years old
Icy blue eyes
needs light blue glasses to see
Kaiden Splinter Kaiden Splinter
Raven Queen
Baelor Hooves
Any OC's that want to befriend her!
All pets
All wild animals
Scaylor Jewel
Icy Snowman
Icy rooms with Heiress King and Adira Aimen. Both are a bit older than her but they are really nice. Icy repays their "girl wisdom" with some good home cooking and iced tea. Although Icy is working on it,Heiress once said that she had to wear a sweater to go to her room. These roomates slowly implant confidence in Icy.
basic- Icy wears her hair in a braid, pulled up tight to contain her long lockes. She wears some bleached,light work jeans. Her shirt is a white tank top. On her feet, she wears white ballet flats.Light blue glasses.  If it weren't for her unusual hair and skin color, Icy would go unnoticed.
formal- Wears a pale blue western shirt with white,pearlized buttons. Wears a white belt with a silver buckle. Wears what is known in 4-H as show jeans, but bleached. Wears white show boots with blue embroidory.  Light blue glasses.
Getting Fairest- White silk shirt. Blue satin pants. Wears her hair in two sleep braids.Wears thin white socks. No glasses,is crosseyed because of this.
Icy's Family
Edit
Icy's mother is the Snow Queen.
Art Gallery
Edit
By freakymagic