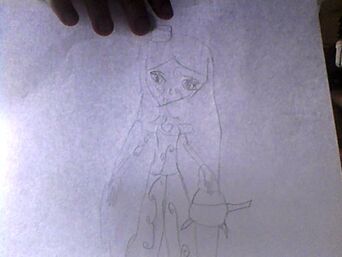 Gigi Wishes is the daughter of Genie
Character Profile
Parent Story
Aladdin and the magic lamp
Age
16
Alignment
Rebel
Roommate
Jafela McEvil
Secret Heart's Desire
Be a great genie
My "Magic" Touch
Belly Dancing and Watching  the stars
Storybook Romance Status
Arab Din he was so handsome and Cute
Oh "Curses!" Moments
To much wishes it cause a bad side of the wishes and Daring always flirting me
Favourite Subject
Astronomy I like stars
Least Favourite Subject
Biology I hate this subject ever
Best Friends Forever After
Blondie Locks,  Hunter Huntsman,Jafela McEvil
Character
Edit
Personality
Edit
Gigi is friendly, clever and cute.She hates to much of wishe because there was the dark side of the wishes
Appearance
Edit
Gigi has purple hair,pink skin and blue eyes.
Relationships
Edit
ffJafela McEvil (The daugther of Jafar)
Gigi has a crush on Arab Din (The son Aladdin)
Gigi wears a green tops with gold details,green loose pants and a Green shoes.
Legacy Day
Edit
Gigi wears a purple top with gold details,purple loose pants and purple shoes.
Ad blocker interference detected!
Wikia is a free-to-use site that makes money from advertising. We have a modified experience for viewers using ad blockers

Wikia is not accessible if you've made further modifications. Remove the custom ad blocker rule(s) and the page will load as expected.