Evergirl8632 is a 13 year old girl with a big imagination. She's not very good at drawing other pictures but when you're talking about a Monster High bio or a Ever After High bio it will be really good. She's a big fan of Monster High and Ever After high and loves to read fanfictions about animes like Fairy Tail, ToraDora, and Soul Eater. Her biggest dream is to get one of her monster high or ever after high bios on monster high or ever after high and be a part of either one of the shows.
Personality   
Edit
Ever is a nice, kind and generous girl who wants to help others and stop being shy at random moments. She loves to draw,sing,and dance whenever shes alone.she hopes to be an actress or a singer when she grows up.  
She loves Ever After High and Monster High because they make you feel special and it helps her get creative (also because they are awesome franchises). Her favourite characters are Frankie Stein, Clawdeen Wolf, Raven Queen, Madeline Hatter and Cerise Hood.
  Original Characters
Edit
Jasmina Agrabah-  Daughter of Princess Jasmine from Aladdin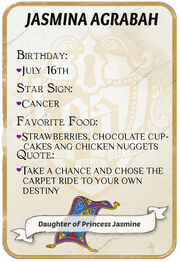 Tina Frog-Daughter of Princess Tiana (will be added in the future.)
Ad blocker interference detected!
Wikia is a free-to-use site that makes money from advertising. We have a modified experience for viewers using ad blockers

Wikia is not accessible if you've made further modifications. Remove the custom ad blocker rule(s) and the page will load as expected.