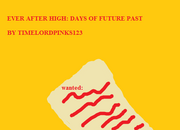 Ever after high: days of future past is a crossover to X men days of future past and is done by timelordpinks123 and is Book 0 of sibuna chronicles, and is the story behind the club and why it was invented.
Blurb: In the future, EAH has been destroyed and the war on all students has gotten too far, people have been lost, both royals and rebels, and now they have no choice but to send icy, molly and stella back in time to stop the war before it even happened and save their school before it gets destroyed, will they succeed? will they lose more people? will the losses be worth it? or will it all fail and the future will be gong?
Characters :
Edit
Icy snow
Stormy frost
Stella violet charming
Molly Grimm
Petal Grimm
Pyro bird
Kurt guardian
Amy dragon
Daring charming
Duchess swam
Lizzie hearts
C.A cupid
cedar wood
cerise hood
hunter huntsman
kitty Cheshire
Maderline hatter
sparrow hood
Chapter 1: horror of the past
Edit
TBA
Promotional images
Edit
Ad blocker interference detected!
Wikia is a free-to-use site that makes money from advertising. We have a modified experience for viewers using ad blockers

Wikia is not accessible if you've made further modifications. Remove the custom ad blocker rule(s) and the page will load as expected.