Welcome to the Ever After High Fandom Wikia!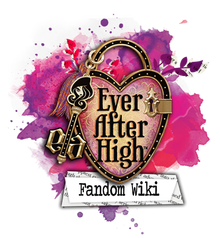 Welcome to the Ever After High Fandom Wikia.

Here, fans of the franchise can post their original characters, fanfiction and fanart, interact with other fans and show off their creativity.

Happy rewriting, authors of your own story!

If this is your first time here, please read our guides before proceeding.

We currently have

4,955 articles

.
The OTMs ("Of the Month"s) are a user based vote hosted every month on the Ever After High Fandom wiki. There are two votes, Character of the Month and Ship of the Month. The winners of each are given a feature on the front page for a month.

All previous winners are posted permanently on the COTM and SOTM pages and the voting is done via the blogs. Find the current vote here!
With a stabbing wit and a blunt penknife, Bane O'Rouge takes the spot of Character of January. As the next Johnny in the Banks of Red Roses, Bane is far from pleased with any outcome of his destiny, and uses his adopted persona to prevent it at all costs. Definitely a character and a page worth keeping a watch on.
---
Grizzane, composed of Grizzabella Penumbra and Bane O'Rouge, form the ship of January. The next Johnny and the next Black Bride met by chance, the latter being drawn in by the former's rakish attitude. One-sided, filled with conflicting emotions and ultimately doomed, although the two make a striking pair, sometimes, things aren't meant to last.
---
Now that you've picked your clubs and classes, who do you think you'll be in a fairytale?
Ad blocker interference detected!
Wikia is a free-to-use site that makes money from advertising. We have a modified experience for viewers using ad blockers

Wikia is not accessible if you've made further modifications. Remove the custom ad blocker rule(s) and the page will load as expected.