Welcome to the Ever After High Fandom Wikia!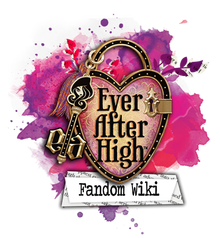 Welcome to the Ever After High Fandom Wikia.

Here, fans of the franchise can post their original characters, fanfiction and fanart, interact with other fans and show off their creativity.

Happy rewriting, authors of your own story!

If this is your first time here, please read our guides before proceeding.

We currently have

4,996 articles

.
The OTMs ("Of the Month"s) are a user based vote hosted every month on the Ever After High Fandom wiki. There are two votes, Character of the Month and Ship of the Month. The winners of each are given a feature on the front page for a month.

All previous winners are posted permanently on the COTM and SOTM pages and the voting is done via the blogs. Find the current vote here!
February is never a Damon Fail when your character of this month is Damon Gale! As the son of Dorothy in the Wizard of Oz, Damon is a sweet boy with a yearning for the adventure in his destiny. Inspire yourself with a red of his page, and follow in his goodhearted footsteps!
---
There is no ship more epic ship than Bird Brains, February's ship of the month. Airmid Valerian and Icarus Juniper aren't your typical "bros", they do have a deep and profound connection, ripe for celebration in 2018's month of love. Bird brains may mean stupid, but there is nothing stupid about this friendship!
---
Favourite EAH male character?