Welcome to the Ever After High Fandom Wikia!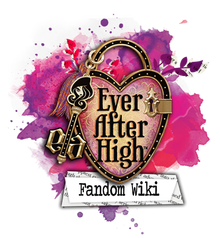 Welcome to the Ever After High Fandom Wikia.

Here, fans of the franchise can post their original characters, fanfiction and fanart, interact with other fans and show off their creativity.

Happy rewriting, authors of your own story!

If this is your first time here, please read our guides before proceeding.

We currently have

4,887 articles

.
The OTMs ("Of the Month"s) are a user based vote hosted every month on the Ever After High Fandom wiki. There are two votes, Character of the Month and Ship of the Month. The winners of each are given a feature on the front page for a month.

All previous winners are posted permanently on the COTM and SOTM pages and the voting is done via the blogs. Find the current vote here!
With cheekbones sharper than his arrows and a burning countenance, Romeo V. Cupid is the Character of November! As the next Saucy Boy, he's destined to wreck havoc in the human heart. All's fair in love and war, they say, and this Cupid perfectly captures the conflicting emotions he inspires among others. Attraction, fear, and in this case... the pride in victory.
---
Banding together through their one constant, the destined dead are a dynamic bunch. Internally destructive and angst-ridden, these teens use one another as an outset for their frustration at the system, and at life. Some have found companionship, others have made enemies, but one thing is certain: the Dead Epics Society's impact has been profound, and for that, the users have declared it the Ship of the Month.
---
Now that you've picked your clubs and classes, who do you think you'll be in a fairytale?
Ad blocker interference detected!
Wikia is a free-to-use site that makes money from advertising. We have a modified experience for viewers using ad blockers

Wikia is not accessible if you've made further modifications. Remove the custom ad blocker rule(s) and the page will load as expected.