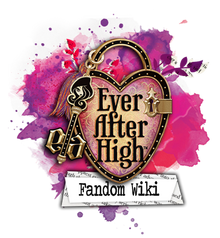 Welcome to the Ever After High Fandom Wikia!
---
Welcome to the Ever After High Fandom Wikia. Here, fans of the franchise can post their original characters, fanfiction and fanart, interact with other fans and show off their creativity.

Happy rewriting, authors of your own story!

If this is your first time here, please read our guides before proceeding.

We currently have

4,471 articles

.
Character of the Month

---

Marissa Stahlbaum, the next Marie Stahlbaum! This secret Rebel is a peacemaker at heart, choosing to diplomatically side with the Roybels. Always able to rise to a challenge, this sassy doll has an imagination like no other, making her more than a perfect candidate for January's award.

 

Ship of the Month

---

O'Kirk! The Scottish unicorn and the Irish farm boy's relationship was built on pining and general sweetness. Of corpse, there is no doubt that they're the uni-ly ones for each other.
Poll
---
Coin toss: heads or tails?
Ad blocker interference detected!
Wikia is a free-to-use site that makes money from advertising. We have a modified experience for viewers using ad blockers

Wikia is not accessible if you've made further modifications. Remove the custom ad blocker rule(s) and the page will load as expected.