Welcome to the Ever After High Fandom Wikia!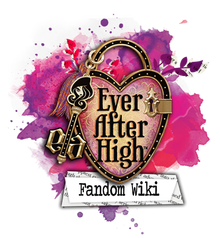 Welcome to the Ever After High Fandom Wikia.

Here, fans of the franchise can post their original characters, fanfiction and fanart, interact with other fans and show off their creativity.

Happy rewriting, authors of your own story!

If this is your first time here, please read our guides before proceeding.

We currently have

4,751 articles

.
| | | |
| --- | --- | --- |
| Pucker up and make way, this month's winner is Dainty Kissington, the next Princess in the Frog Prince! If it is love this pratically perfect Roybel is looking for, she need look no further than this very wikia. Her kind exterior and troubled interior have made Dainty a truly unfrogettable character, more than deserving of her victory this September. |   | Altiline, composed of Alto Lute and Matchiline Spark, is the ship of August! As a pair whose relationship ignited through pasta and cuteness, it's safe to say that these two are truly a noteworthy match. |
It's time for a new school year and y'know what that means! What Ever After High clubs will you be signing up for?
Ad blocker interference detected!
Wikia is a free-to-use site that makes money from advertising. We have a modified experience for viewers using ad blockers

Wikia is not accessible if you've made further modifications. Remove the custom ad blocker rule(s) and the page will load as expected.