Welcome to the Ever After High Fandom Wikia!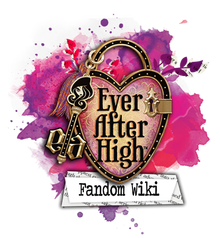 Welcome to the Ever After High Fandom Wikia.

Here, fans of the franchise can post their original characters, fanfiction and fanart, interact with other fans and show off their creativity.

Happy rewriting, authors of your own story!

If this is your first time here, please read our guides before proceeding.

We currently have

5,346 articles

.
The OTMs ("Of the Month"s) are a user based vote hosted every month on the Ever After High Fandom wiki. There are two votes, Character of the Month and Ship of the Month. The winners of each are given a feature on the front page for a month.

All previous winners are posted permanently on the COTM and SOTM pages and the voting is done via the blogs. Find the current vote here!
COTM JAN 2019 Let's kick off this New Year with a bang! Scarlet Anne d'Herblay is our first Character of 2019. As the next Aramis, she has a zest for the adventure of her story... but not her priesthood ending. Forever dedicated, Scarlet really reminds us to stick to our guns and fight on!
The children of Eros or his Roman counterpart, Cupid, the Plague of Cupids are an affectionate family, many of whom find a place for themselves as a fairytale legacy. Fickle, flightly, and needlessly dynamic, the family members are dear to both the Wikia and each other. All is fairest in love and war as we spellebrare their victory this January!
Favourite EAH male character?