Welcome to the Ever After High Fandom Wikia!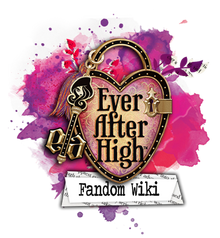 Welcome to the Ever After High Fandom Wikia.

Here, fans of the franchise can post their original characters, fanfiction and fanart, interact with other fans and show off their creativity.

Happy rewriting, authors of your own story!

If this is your first time here, please read our guides before proceeding.

We currently have

4,665 articles

.
| | | |
| --- | --- | --- |
| As the Character of August, Griselle Damgaard, daughter of the Ugly Duckling, is here to crush conventional, Eurocentric beauty standards… while being crushed by angst and cynicism herself. To take up the role of "Andersen's self insert" is difficult enough, and even more so when there are other problems in her midst. Nevertheless, Griselle's determinism is a stoic reminder for us to find our balance, and to find our beauty, in life. |   | One True Pair? How about One True Posse? The Swan Squad are more than Duchess' backup dance crew, they're a vibrant squad here slay, sashay, and dance the night away. Behind their coordinated moves and witticisms, each swan maiden carries their own spirited personalities and attitudes. If you're looking to steal swan maiden cloaks, this isn't the crowd you wanna mess with. |
The admins are thinking of expanding dropdrown navigation links to Fanfiction works as well! What do you think of this?
Ad blocker interference detected!
Wikia is a free-to-use site that makes money from advertising. We have a modified experience for viewers using ad blockers

Wikia is not accessible if you've made further modifications. Remove the custom ad blocker rule(s) and the page will load as expected.