Welcome to the Ever After High Fandom Wikia!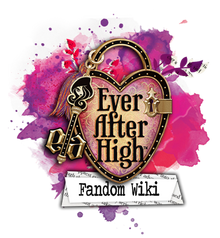 Welcome to the Ever After High Fandom Wikia.

Here, fans of the franchise can post their original characters, fanfiction and fanart, interact with other fans and show off their creativity.

Happy rewriting, authors of your own story!

If this is your first time here, please read our guides before proceeding.

We currently have

4,638 articles

.
| | | |
| --- | --- | --- |
| Celadon West has been voted the Celadon Best this month, taking the title of May Character of the Month! As the next Wicked Witch of the West, West takes 'wickedly rebellious' to the next level. He may have lost his place at Emerald City Academy but West has certainly won a place in the wikia's heart this month, warts and all. |   | Kaoren, consisting of Garen Norwitch and Kaolin Alabaster, is the Ship of May! A cute summer crush turned solid romance, the next Good Witch of the North and China Princess are an adorkable pair, here to survive courtship applications and other difficulties together. |
What is your favourite compass direction?
Ad blocker interference detected!
Wikia is a free-to-use site that makes money from advertising. We have a modified experience for viewers using ad blockers

Wikia is not accessible if you've made further modifications. Remove the custom ad blocker rule(s) and the page will load as expected.