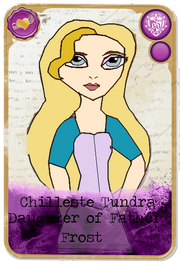 Chilleste Tundra
REBEL
Parents' Story: Father Fros
tBirthday: December 21
Favorite Food: Hot Cocoa and fresh-baked cookies
Secret Heart's Desire: For people to see that I am not really cold-hearted.
Storybook Romance Status: Single because no one can warm up my heart.
"Oh Curses!" Moment: Often I tend to judge a book by its cover. >_<
Favorite Subject: History
Chilleste is going to be the next "Mother Frost", the first girl to take on the role in generations. She is a rebel because she doesn't want to be the one responsible for the death of two teenage girls, and would like to wait a while before finding her prince charming. She is also very lonely.
Ad blocker interference detected!
Wikia is a free-to-use site that makes money from advertising. We have a modified experience for viewers using ad blockers

Wikia is not accessible if you've made further modifications. Remove the custom ad blocker rule(s) and the page will load as expected.