Anastacia Luft is the adopted daughter of one of the daughters of the air from The Little Mermaid.
Personality
Edit
Ana is rather um...How can I put this nicely?...Bossy. She is a tad bit of a snob as well, and tends to snuff people, typically guys. She is a bit of a foulmouth at times.
Relationships
Edit
Daughter of the Air (adoptive mother): Ana is very close to her mom.
Light Princess (actual mother): Ana doesn't even know her. Ana has know idea who her actual mother is and is rather touchy on the subject. If she did know who her mother was she'd be very mad at the Light Princess for abandoning her.
Little Mermaid (godmother): Ana likes her godmother and all, but is a bit annoyed at how kind, and weak she seemed in her story. Ana also pities her godmother's (adoptive) daughter.
TBA
TBA
TBA
TBA
Portrayer(s)
Edit
Ella Purnell would be a good portrayer for Ana.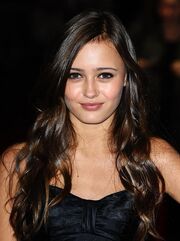 Ad blocker interference detected!
Wikia is a free-to-use site that makes money from advertising. We have a modified experience for viewers using ad blockers

Wikia is not accessible if you've made further modifications. Remove the custom ad blocker rule(s) and the page will load as expected.